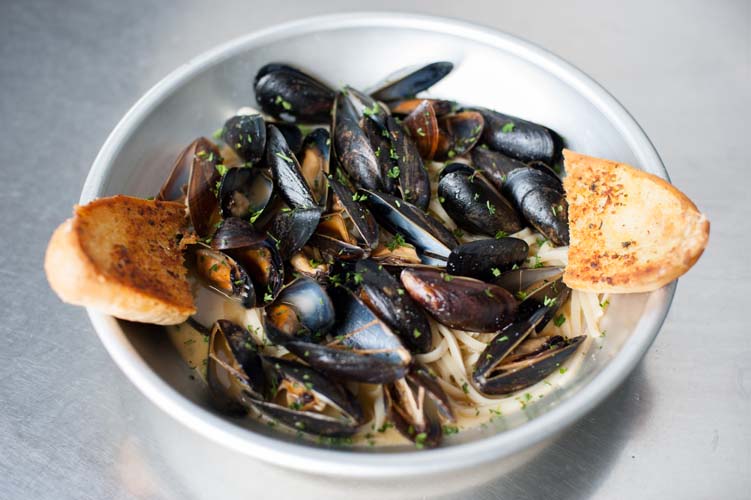 With apologies to Lord Tennyson, in the dog days of summer, a displaced New Englander's fancy seems to turn to thoughts of fresh Maine steamers, fried clams and lobsters.
Since there is little likelihood that my Boston-born husband and I are going to make it up to Ipswich, Kennebunkport or Bailey's Island this summer, we did the next best thing and headed up A1A to the New England Eatery in Melbourne Beach.
This roadside restaurant is now its third decade of providing refugees from New England with the seafood dishes they crave.  In the winter, as you might guess, it is generally packed with snow birds – but this extremely casual eatery does a pretty darn good business in the summer as well.
When we arrived shortly before 6 p.m. last Saturday, the restaurant was already near full.
For starters on this visit, my husband (of course) ordered the New England clam chowder ($4.95), which he rates about the very best in this area.  I decided to start with the mahi chowder ($4.95), a spicy tomato-based soup, and our companion asked for the two to be mixed half and half – a combination she favors.
Then for entrées, I ordered the Maine steamer appetizer ($15.95), my husband (of course) chose the whole belly clams ($21.95) and our companion went for the fried shrimp dinner ($15.95). All were accompanied by a choice of sides.
The two dozen soft-shell steamer clams couldn't have been fresher.  Small, tender and sweet, they are served in their own broth – you swirl the freshly dug clams in the broth to get rid of any residual sand – and the dish is accompanied by a cup of drawn butter for dipping.  Yummy.
The whole belly clams, fried nice and crispy, were even more wonderful on this visit than usual.  Absolutely the best around, and the $21.95 portion is large enough to satisfy even the hungriest New Englander's craving for these beauties. You can get a smaller portion for $18.95, but as my husband says, "Who'd want to do that?"
Our companion also raved over her fried shrimp dinner. The lightly breaded deep fried jumbo shrimp were very tender and tasty, topped by three large fried onion rings.
On other recent visits, we have enjoyed the broiled Nantucket trio ($21.95) – which consists of a flaky filet of cod, sea scallops and shrimp – as well the New England Eatery's lobster roll ($16.95).
The classic lobstah roll, as true aficionados know, consists of steamed lobster meat (claws and knuckles), tossed sparingly in mayonnaise with a bit of diced celery for a little crunch, a dash of lemon, and a buttered split-top hotdog bun that has been toasted until the sides are golden brown.
The last couple of times we have ordered it at the New England, the bun has been perfect and the plentiful bite-sized lobster chunks sweet and savory.
In many years of visiting this restaurant, we have never been disappointed.  If you are craving Maine steamers, fried whole-belly clams, a lobstah roll, scrod or any Down East seafood fix – with no early prospect of making it to the Massachusetts or Maine coast –you are likely to leave the New England Eatery happy.
I welcome your comments, and encourage you to send feedback to me at tina@verobeach32963.com.
The reviewer is a beachside resident who dines anonymously at restaurants at the expense of this newspaper.