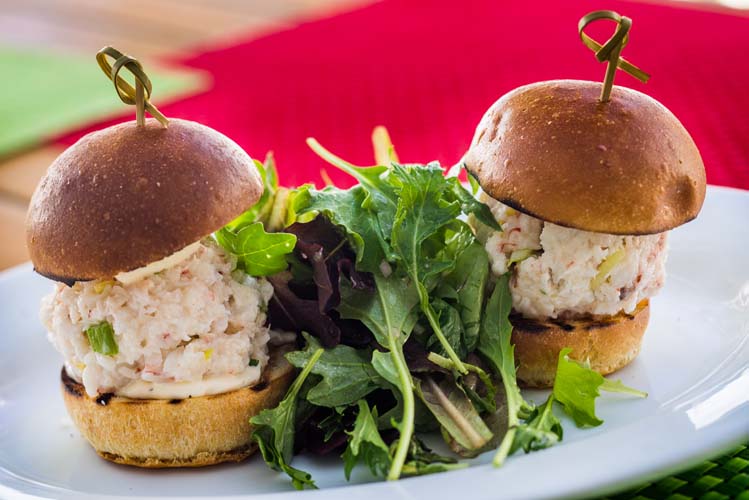 In a perfect world, creative chefs would love to have a dedicated test kitchen and plenty of time in which to experiment – without the pressures of a working restaurant kitchen – as they prepare new dishes for the coming season.
But few restaurants can afford this luxury, and when we stopped into the Citrus Grillhouse for dinner last Tuesday, executive chef Scott Varricchio emerged from a bustling kitchen and told us that in addition to everything else he was doing, he was "playing" with several dishes he hopes to add to the menu this fall.
"Do you want to be my guinea pigs tonight, and give me some feedback?" Varricchio asked. Having enjoyed a number of his creative efforts in the past, how could we say no? So we ordered a couple of glasses of wine, and waited to see what was next.
The first dish to be brought to the table was a "warm Caesar salad," a very different take on the traditional Caesar. No anchovies here. This one consisted of Brussels sprouts, kale, a bit of spinach, and radicchio, lightly sauteed in olive oil, then finished with the Citrus' version of Caesar dressing.
We marveled at how it did not taste of its individual components, but seemed like a real Caesar salad.
Next out of the kitchen was a shareable appetizer, roasted portabella and goat cheese vol au vent. The vol au vent, a shaped pastry, had been stuffed with roasted mushrooms marinated with garlic and thyme olive oil. The stuffed pastry was then baked again, topped with herbed goat cheese, and surrounded by a very assertive red wine and beet vinaigrette.
For me, the mixture of tastes worked perfectly, though some might find the vinegary taste a bit on the strong side.
Then we got to the first of three entrées – beautiful pieces of swordfish, cut from the center of the fish, grilled and topped with a lemon aioli.
While this swordfish is currently being served nightly with a very tasty ratatouille orzo, the proposed fall accompaniment was a mix of butternut squash and caramelized onions. "To be honest, I'm not very satisfied with that one yet," Varricchio told us. "It still needs something."
The fourth course was another entrée, slices of roasted organic local chicken breast with a truffle-soy emulsion risotto and fresh shaved truffles from Australia. The organic chicken, which comes from a local ranch, was chicken as chicken should taste.
But the fifth course was the highlight of the evening – sweet-onion ash dusted filet of beef, accompanied by garlic mashed potato, fried potato dice and fried shallots.
"This is the first time I have ever served this," Varricchio said. He explained that he had taken some sweet onions, sliced them really thin, and turned them into charcoal. Then he put the charred onions into a grain spinner, turned them into dust, and rubbed the filet with the onion ash before grilling it.
The result:  luscious beef just bursting with flavor. "People seem to like onion on hamburgers and steaks.  This is just a different way to bring that taste to beef," Varricchio said.
By this point, we were not able to even contemplate one of the Citrus Grillhouse's wonderful desserts.
But forgoing sweets for one evening was a small price to pay for the opportunity to preview coming attractions with one of the area's most inventive chefs.
"You know, doing a tasting of never-before attempted dishes put a bit of pressure on me," Varricchio said as we left. "But I kind of liked that."
Our guess is you will like the final version of these dishes when you visit the Citrus Grillhouse in the fall.
I welcome your comments, and encourage you to send feedback to me at tina@verobeach32963.com.