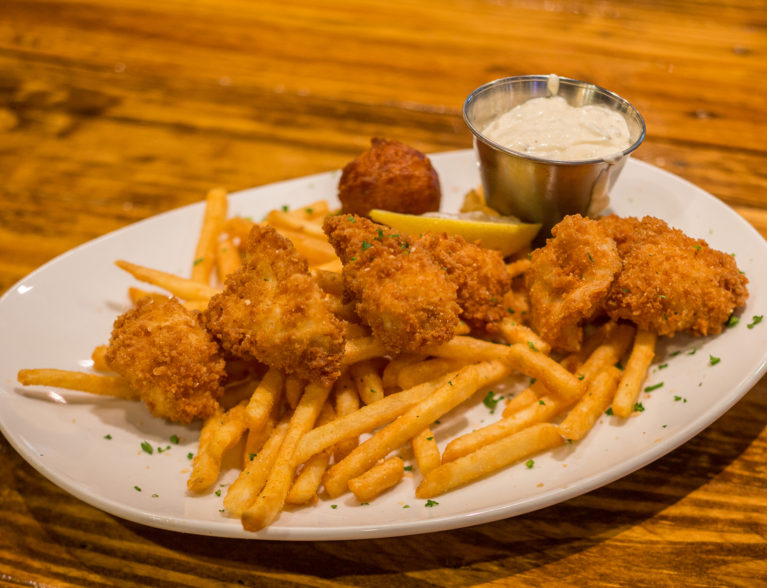 An unusually busy summer of restaurant debuts in Vero saw the opening last week of the Green Marlin, the newest creation of Chef Lou Kolbauer, the driving force behind the popular Chive on Royal Palm Pointe.
Unlike Chive, where you go to the counter to select the ingredients you want to eat, the Green Marlin is a sit-down restaurant that took over the large U.S. 1 building previously occupied by the Outback Steakhouse.
Headline news: While the name would suggest this is a primarily a seafood restaurant, the menu (or, more accurately, menus) offers something for everyone – ranging from raw bar choices, to soups and salads (including a salad bar), chicken wings, pastas, beef and chicken entrées, and even family-style dinners.
Look & Feel: This space has been rendered somewhat more nautical since it housed the Outback, but it still has a familiar feel. Walking into the Green Marlin from the parking lot, you pass the bar area to your left and enter the dining room, which has wood tables in the front and then rows of wooden booths along either wall.
Food: On our visit the first week the Green Marlin was open, we sampled three starters (a soup and two appetizers), three entrées, and a dessert.
For starters, we tried the ahi tuna bomb ($7.99), the soup of the day (mushroom – $4), and a bowl of steamed clams ($14).
The tuna bomb consisted of a tuna loin, placed in an egg-roll wrapper which had been smeared with tahini paste, and fried at a super-high temperature.  Seared on the outside, the tuna was rare on the inside. Served with a seaweed salad, it was indeed what hipsters used to call "da bomb."
The steamed clams also were excellent, served with a great garlic and herb butter sauce. You will certainly want to ask, as I did, for some bread to mop up the broth after you've enjoyed the sweet young clams.  Very, very tasty.
For entrees, I had the salmon ($18), my husband had the fish of the day ($18), and our companion had the shrimp and scallop pasta fra diavolo ($18).
My Scottish salmon was a beautiful piece of fish, blackened and served with a delicious butter, salt and Old Bay sauce. My husband's grilled swordfish also was excellent served with a Cajun remoulade sauce. Both dishes were accompanied by a side of fresh zucchini, squash and carrots.
Our companion's shrimps and scallops, along with seasonal vegetables, were served over cavatappi (pappardelle was the other option) in a delicious spicy red sauce. The ingredients could not have been better.
For dessert, we shared a slice of the house-made grapefruit pie ($7). A good way to end the meal.
Drink: With a full bar, the Green Marlin offers a variety of cocktails, as well as large selection of craft beers. It also has a well-priced wine list.
Service: It's probably not fair to be too critical of a server in a restaurant just getting started, but while enthusiastic and eager, our server had a fairly shaky grasp of how various menu items were prepared.  That seems likely to get better.
Prices: Prices seem extremely reasonable.  Entrées top out with the roasted beef tenderloin for $20 or the admiral's platter for $21. Family dinners – such as chicken alfredo for four for $36 – are a bargain.
Initial impressions: While we have sampled only a tiny fraction of the many dishes offered, everything we had was very fresh, very well cooked, and very well-seasoned. Our guess is the Green Marlin is in for a long run.
I welcome your comments, and encourage you to send feedback to me at tina@verobeach32963.com.
The reviewer is a beachside resident who dines anonymously at restaurants at the expense of this newspaper.