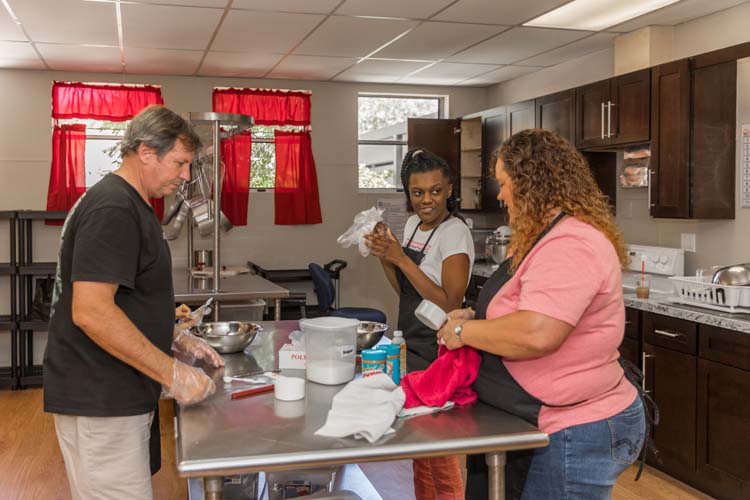 Housed in a historic 1925 building, the Wabasso School is a special education center serving the unique needs of students with developmental disabilities from pre-K up to age 22. And, while the school's educational curriculum is defined by state standards, there is also, by necessity, a focus on emotional, social and life-skills development. Particularly important is the need to cultivate each student's full potential as they transition into adulthood by providing them with the tools needed for employment and independent living.
Wabasso Principal Kathy Pierandozzi explains that while parents often wish to keep their special-needs children at home, coddling and doing everything for them, that approach doesn't address the long term.  One answer is group homes, such as those of The Arc of Indian River County, but homes are limited and, with continued drastic cutbacks in governmental funding, the situation is only likely to get worse.
"There used to be a nice dollar amount coming from the federal government for adults with disabilities, but that's backed off tremendously over the years," says Pierandozzi.
Now, thanks to a collaborative effort by the Education Foundation of Indian River County, the John's Island Foundation and the Indian River County School District, Pierandozzi and her compassionate, highly trained teachers and staff have been taking these students to new levels of self-reliance.
Cynthia Falardeau, Education Foundation executive director, explains that two years ago, School Superintendent Mark Rendell approached her about finding additional funding for the Wabasso School, noting that while the school district had some funding to invest in technology and digital classrooms, they did not have the resources to finish the project.
"And that's really what the Education Foundation's role is – to provide that additional enrichment. We're kind of like the Community Foundation for the Indian River County School District," says Falardeau, noting that as a nonprofit organization, they write grants to enhance district learning opportunities and provide donors with oversight and reporting, and facilitate a continuation of the relationship.
"I think the key thing that Kathy brought, not only to me but to the foundation, was the vision of what she wanted for these children. It was really a paradigm shift from what was occurring here before," says Falardeau.
Pierandozzi explains that the Wabasso School, which currently has 51 students, is the most restrictive of environments for learning; its students either cannot handle or their needs exceed the general education setting.
"That's why I only have six children in a class and two or three adults," she says. "The students range in disabilities, they range in functioning levels or cognitive levels of ability, and their reasons for being here vary."
In the spring of 2016, John's Island Foundation provided $35,700 to the Education Foundation to fund Speak Up, a project utilizing iPads and programming to give nonverbal students a means of communication.
"It truly is providing them a voice, so that not only can they interact with their environment, it also allows them to better engage in learning," says Pierandozzi. "So they are able to share feelings and emotions, needs and desires, and interact with their teachers on the learning aspect. I had teachers say, 'Oh my gosh; I didn't know she knew this!' This is a verbal response in which they literally answer the question that was asked. The nonverbal students couldn't do that before."
A second phase was put into play after Falardeau again met with Rendell to prioritize the district's needs, and he said he wanted to find a way for Wabasso students to transition to independence.
This time, a $56,860 grant from the John's Island Foundation in the spring of 2017 funded the R.E.A.L. (Room of Engaging Ability Learning) Lab, a transition space where students ages 18 to 22 are learning the skills needed for independent living and career training.
A once-drab classroom was gutted and transformed into an open, airy living space, with low walls in the main room sectioning off several learning areas – business/office workspace, bedroom, full bathroom, laundry and living room with computers and an interactive TV. Another room houses a wonderfully spacious, fully functioning kitchen.
"So they go through their entire daily living," says Pierandozzi, pointing out that everyday tasks – from making a bed and folding towels to replacing a toilet paper roll – are outlined on large posters in each area of the room. "It's daily living skills; it's independent functioning. And then there are employability skills."
Students have already begun to make and market items from their Wabasso Puppy Pastry business and Phoenix Print Shop and are discovering a new confidence in their abilities.
Eventually Pierandozzi hopes all her students will have a role in the Puppy Pastry business. "It may be with assistance, but they're part of the business. We're taking every classroom to that maximum level."
"You're dealing with the future development of young people," says Jim Smith, JIF board member. "This is basically transforming people's lives. You're transforming from dependency to being productive. I'm sure they've developed positive self-images as a result of this; they've learned how to interact."
"It's long-term critical," agrees Pierandozzi, who envisions this as a model for schools around the state.  "If they have the ability to earn an income, that is less of society's job to take on. They become a positive part of the community and are integrated into the community, which they may not otherwise do."
"I challenge anybody to go there and not come away moved. Because these young adults are so very capable and this will help them assimilate into society," said Ken Wessel, JIF board president. "When you go there and you see them work with some of the things we've given them, their smiles and their eyes just light up the room. You realize that they have so much potential and this is an opportunity to have them reach a greater potential. The John's Island Foundation is very proud to do this and that's why we encourage them to come back next year. We're very, very proud; this school is just fabulous."
Next on the agenda is finding funding for a wheelchair-accessible passenger van to transport students to local businesses willing to work with them. A van would also provide flexibility to get students to get to other real-world activities, such as shopping for supplies.
"A van would extend the learning opportunities, get them out there," says Pierandozzi. They currently rely on very limited school bus availability and have scarce funding to pay for those buses they do utilize.
"This community is unbelievable to me," says Pierandozzi, who previously worked in Broward County. "I came from the sixth largest school district in the nation and I have never experienced the gift giving and care of this community. That to me is phenomenal."
"This really is a wonderful model of the purpose and mission of an education foundation; to be able to increase the community's investment in its students and teachers," says Falardeau, adding with a smile, "So we have more ideas that can be funded."
For more information, visit edfoundationirc.org or indianriverschools.org/ws.